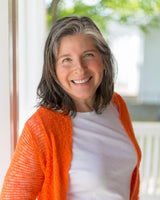 LUX Founder Nanette Perrotte
I created LUX after years spent believing in the potential, and disappointed by the inevitable failure of various store-bought beauty brands.
My entire line is designed to support the ever changing skin and hair of humans who have celebrated a few or many "springs".
Mist a LUX Lifestyle Infused Magensium spray on the bottom of your feet to help alleviate body aches. Then, try the same Magensium Spray to help send you off to the Land of Nod!
I'm busy blending and stirring the textures and benefits of different foundational oils and teas into a perfect ratio before adding the final touches of select essential oils, clays, herbs and flowers.
With fresh lavender and rosemary scents drifting around my worktable, I smile when I mix these delicious products and know you will too!
Thank you for visiting - I know you will enjoy my LUX Lifestyle self care options.
LUX Lifestyle: doing the least to the best.
Browse here
This section doesn't currently include any content. Add content to this section using the sidebar.